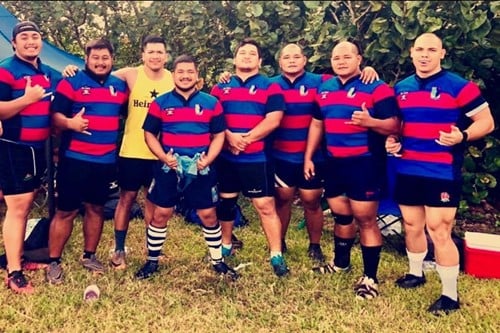 Winning Together: Celebrating Career Changes
GTA
When you first started applying for jobs, did you know exactly what you wanted to do?
For those of you who did, we are all envious. For those maybe feeling antsy or eager for new opportunities in current roles - this is the blog for you!
Today, we introduce you to just one of the many essential employees behind the wheel and our hands-on heroes. Devin Tuncap shares his experience transferring to a new job internally. He shares what motivated him to take the risk shifting from working at the Call Center to being in the field as an Installation & Repair Technician on the Service Solutions Team.
The Service Solutions Team connects the island community with the digital world of tomorrow and are responsible for installing and repairing GTA equipment and services while staying focused on providing the best customer experience. They are a fast-paced team and in the office first thing in the morning to huddle and receive their daily customer work schedules. From there, they head out into the island and work laboriously through Guam's harsh conditions to install and repair our customer's business and home services. The only thing more identifiable than these team member's GTA logo shirts, are their bright and welcoming smiles.
Meet Devin Tuncap (Service Solutions Specialist)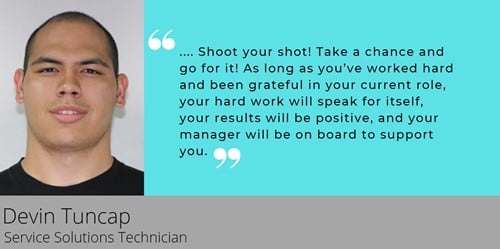 How long have you been working at GTA, and what were your first impressions?
I was hired in July of 2018 and was selected for the Client Services Department. I answered queries, handled payments, and processed orders for the initiation of services.
Before GTA, I had worked for a variety of different companies. However, I can honestly say that out of all my previous jobs, the culture here at GTA is vastly incomparable. To put it simply, GTA has never really felt like a workplace for me.
From my very first day, every employee I've met has greeted me with a warm smile and a friendly 'hello'. Although for many of us it was our first-time meeting, there was an automatic connection. As terrifying as it could be to be the new guy in the company, they made me feel right at home.  
That's great! Making a new hire feel welcomed on their first day of work really helped set you up for success.
After being part of the Client Services Department, what made you want to pursue a new role on the Service Solutions Department?
My transfer to our Service Solutions Department even came as a shock to me. As an ambitious young man chasing opportunities, I had a desire to expand my skillsets. My previous work experience had been customer service and clerically based and I wanted to try something different.
So, I applied and to my surprise, I was selected!
I had no electrical experience or even basic understanding of the technical field aspect of our company. However, I did have decent work ethic, tenacity, and a willingness to learn. I am most grateful for this opportunity given to me. 
Wow - just goes to show what hard work and being adaptable to new roles for your career can do. Congratulations on the career move!
What does a typical day as a Service Solution Technician look like?
As a technician my daily duties include reviewing the day's work schedule. Before heading out, I make sure I can find the street addresses on our map. I review and understand what services my customer has and how they are receiving their services (cable routes and equipment the service is originating from). I then contact our customers in advance of my arrival. This is to let them know that I have them on schedule for the day and I try to give them an estimated time of when I would be arriving. 
Prior to performing any work, I communicate back with management and our Dispatch Department confirming whether the job requirement is a repair, installation or even the establishment of a line for a new customer's service. To wrap up, I send a completion email, verify the services are working for repairs or installations with our customer and or leave a tag marking the newly established line for a team member who will be installing the service.
How would you describe your team and leadership?
The Service Solutions Team has awesome leadership. Our leaders consistently set the pace for us and provide us with anything and everything that we could possibly need (within reason, of course.) Aside from checking our supplies and replacing tools, they make a habit of building personal one-on-one relationships with us. We are constantly reminded of 'the SCORE' and our goals to ensure customer satisfaction.
Out in the field, our work is never the same and there are numerous challenges. Most of which we can overcome on our own. However, there are many situations that truly cannot be completed alone so strong relationships with the team are crucial to your success.
I often see emails from technicians who need assistance with their workload and not long after I will see a response asking for more information for them to assist. Our department definitely has a great sense of camaraderie, among other traits. 
A great team makes all the difference, especially when you can count on them to help you along the way. We hear you also belong to another successful team outside of work.
Yeah! During my off time, I'm very active. I exercise at a CrossFit Gym and I play for the Guam Rugby Club who has the only official Rugby field on island and is located at Wettengel. The CrossFit Gym that I attend is Custom Fitness located in Anigua and they are known for producing prime athletes.
I mainly CrossFit to support my ability to play rugby. Like Crossfit, Rugby has the dichotomy of Anaerobic movement coupled with Aerobic movements over an extended period of time and as physically and mentally challenging as Rugby is, I need to be in excellent shape to not only perform well but also to protect myself from potential injuries. 

I'm sure I'm not the only one who is intimidated by that photo. very impressive! Sounds like you have always been a motivated person and a big team player.
Is there anyone you've always admired or been inspired by?
As a child, my dad was my biggest role model and one of the guides that helped mold who I am today. By profession, my Father is a Firefighter. So, naturally I wanted to follow in his footsteps and be like him.  
Can you tell us what you have liked best about working at GTA so far?
I like that I get to play a crucial role in our customer's experience and the reactions from those I help are what make the difficult and stressful aspects of my career worth it. Whether I have a customer who is excited to be activating their new service or possibly a customer expressing their gratitude for the repair of their services, these daily interactions and the results of the work performed are gratifying for me and essentially motivate me to continue working hard to provide that great experience! 

For current employees who are interested in making a career shift at GTA, how would you advise they apply? Any other advice?
After seeing the email from our recruiter, Don, about the open availability for the position, I realized that this would be a good fit for me and something I'd be interested in learning how to do, so I followed the procedures to apply. I turned in the application to HR and had full support of my manager who happily signed the form allowing for me to transfer. It was as easy as that!
The advice I would give to anyone looking to transfer or change career paths is, shoot your shot! Take a chance and go for it! As long as you've worked hard and been grateful in your current role, your hard work will speak for itself, your results will be positive, and your manager will be on board to support you.
Again, I had no prior experience working as an electrician or had any understanding or training of it, but I took the risk and it has been the best decision to transfer to this position. I was definitely intimidated at first, since I was leaving my friends and coworkers who I enjoyed working with to join a brand-new team and work alongside new faces.
Also, many Service Solution Specialist team members have worked for GTA for a long time and I was intimidated to join them as the new guy, but they have turned out to be the friendliest and most supportive team! When I don't know what's going on a with a route, or a cable, and even if we've never formally spoken, I know I can reach out to them and they are always willing to lend a helping hand and work together.
Taking a risk, especially when it comes to your career, can be scary. What was the hardest part?
Yeah, I would have to say the hardest part was transitioning to a new role and acclimating to the different job responsibilities. I've been part of the team for about eight months now and still feel like I'm still adjusting and learning every day.
On the flipside, what have been the biggest benefits of making the transfer to a Service Solution Specialist?
The biggest benefit was being able to discover more about myself and gaining new experiences. Taking risks and putting yourself out there helps you to learn more about who you are and how you react to different interactions and environments. As a Service Solution Specialist, my confidence has boosted, and things have really worked out for me.

Thank you, Devin! We really appreciate you sharing your story with us and will continue to cheer you and the Service Solutions Specialist team on. Thank you for all you're doing to ensure success and support for GTA, our customers, and the community.
For many of us, GTA has become a second family, support group, and our biggest cheerleaders personally and professionally. Devin's story, amongst others here at GTA, feels relatable, genuine and could almost be our own.
GTA wants to see our employees grow and succeed and we're grateful to have enthusiastic, top notch, and hard-working employees who go above and beyond to reinforce GTA's Vision 'to inspire the island community in all that we do' as he and the Service Solution Department exemplify this each day.
If you'd like to read more employee work life stories, head over to our employee blog page, where you can find a collection of the best of them. And if you're interested in joining the GTA team, take a look at our current openings.
To find out more about their journey, connect with them on LinkedIn.