GTA's history is deeply rooted in our heritage, and we're proud to be truly local. Each of our employees bring their own talents, creativity, and individuality. And we encourage a culture of sharing and learning from each other through stories and experiences.
July 21 is the day Guam was liberated from Japanese occupation during World War II. The Liberation Day parade has been a long-standing major event in Guam, and after a two-year hiatus due to Covid, the festivities are back!
We asked employees to share how they commemorate Liberation Day. From what it means to them individually to how they enjoy the holiday with friends and family. We also found some photos of GTA's participation in the Liberation Day Parade when we were still a Government of Guam agency.
Flashback
This year Guam is celebrating its 78th Liberation Day Parade, and a few employees here at GTA can say they share a special connection with the Liberation Day Parade, having worked here when GTA was still a Government of Guam agency.
Early photos are hard to come by, so this was an exciting find. Let's flashback to hear how GTA employees got involved, celebrated, and shared their artistic talents in the Liberation Day Parade.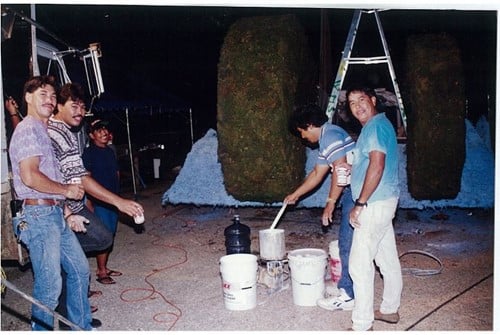 "There were always many people helping to prepare our float for the Parade. Whoever wanted to volunteer to help put in work and help build the float could participate. There were always two or three people who would lead the float design. A few that come to mind were Mr. Joe Okada, John Castro, and Victor Cruz. They always did the 3-D designs for the float. Back then, I used to work in the mechanic shop, so one year, I helped do the welding for the main structure, and we used chicken wire to create the shape. Mr. Joe Okada and John Castro were artistic, using duct seal (clay) to form Chief Kepuha holding the flag. It was a lengthy process and intricate design. I think we won that year. It was a lot of fun, and I enjoyed the camaraderie when we would get together. There was always food, laughter, and a lot of fun back then. And our children and spouses could join too, and we would all just enjoy being together." – Anthony Pablo, I&R Construction Tech Lead, 33 Years
"Our Manamko went through a lot back then. My dad told me how he was forced to speak Japanese to survive. I think about that and how much my parents had to endure. It was years of suffering. I'm grateful to all who made sacrifices." – Corina Lizama, Budget Analyst, 38 Years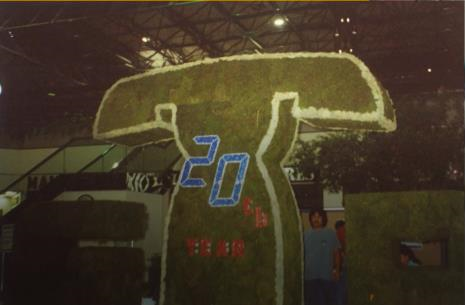 "The Liberation Day parade was always a big deal for GTA because we had some of the best artistic talents. One year they made a big telephone! Since we had guys working in the field, they would help find various flowers throughout the island and collect Lumot to make the flora and fauna. Back then, it was very competitive among Government Agencies, and GTA always wanted to come in first. It was about being family and coming together and giving everyone that time to just laugh and joke and enjoy themselves." – Vickie Taitano, OSP Service Assurance, 34 Years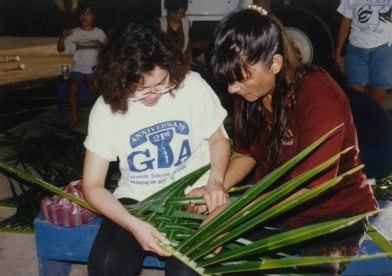 "We would all work together to build a float and compete to be the best, and GTA would usually always come out on top. We shared our creative ideas and talents. Some of the designs were waterfalls and eagles. We wanted to impress the island and provide inspiration. Coming together to build the Liberation Day Float was a lot of hard work. Still, the value was team building and camaraderie. During the government days, work was divided into 3 teams – Northern, Southern, and Central. I was part of the Southern team, which was tasked with picking the vegetation for the float. We would find materials like coconut leaves and banana leaves and whatever other vegetation was needed for the float." – Franklin Mafnas, OSP Service Assurance, 35 Years
When asked to reflect about the meaning of Liberation Day, we asked employees to share their perspectives.
"Our Manamko went through a lot back then. My dad told me how he was forced to speak Japanese to survive. I think about that and how much my parents had to endure. It was years of suffering. I'm grateful to all who made sacrifices." – Corina Lizama, Budget Analyst, 38 Years
"The celebration of when we were liberated from the Japanese. Also, to honor our Chamorro ancestors who lost their lives during that time. Also, getting together to see all our family, friends, and other people we haven't seen. Seeing everyone's face today with smiles and laughter shows that what happened in 1944 did not go to waste. We are all enjoying life today, our island's growth, and keeping the culture, regardless if there aren't many veterans left. We will continue to carry on their legacy!" – Briana Perez, OSP Construction, OSP Tech Field Services, 1 Year
Employees also shared their plans to celebrate Liberation Day.
"We usually take the family to the Parade to enjoy the festivities. It goes back to when there was a lottery system to get a permit. We would stand in line at Department Public Recreation and camp overnight along Parade Route. It was soo much fun." – Frank Mafnas, OSP Service Assurance Mgr, 35 Years
"When I was younger, I would go down to the parade. But this year, I became a Grandma, so I'm going to be taking care of my newborn granddaughter." – Fran Jesus, Manager of Construction, 33 Years
"We would campout along Marine Drive the night before the parade, but this year they're not allowing it. We're still going to check out the Parade." – Ray Tanayan, Security & Fleet Operations, 30 Years
"We're trying to plan a boat cruise. We usually spend the day with family barbequing at the beach." – Jennifer Tyquiengco, Inside Sales Specialist, 17 Years
"I'm going to be volunteering to help build the float with the USO. I'm looking forward to walking alongside the float." – Ann Marie San Agustin, Operations Coordinator, 36 Years
Celebrating Liberation Day emphasizes our unity and is a time to reflect upon the resilience and inspiration of our people and most especially the sacrifices of our war survivors. We also use this time to honor traditions and more importantly spend time with family. Now that we are living a new kind of normal, we hope you continue to carry on these lifetime traditions and pay respect to those who made sacrifices for our freedom.
Wishing you and your families a safe and happy Liberation Day!