The easy and reliable choice for Prepaid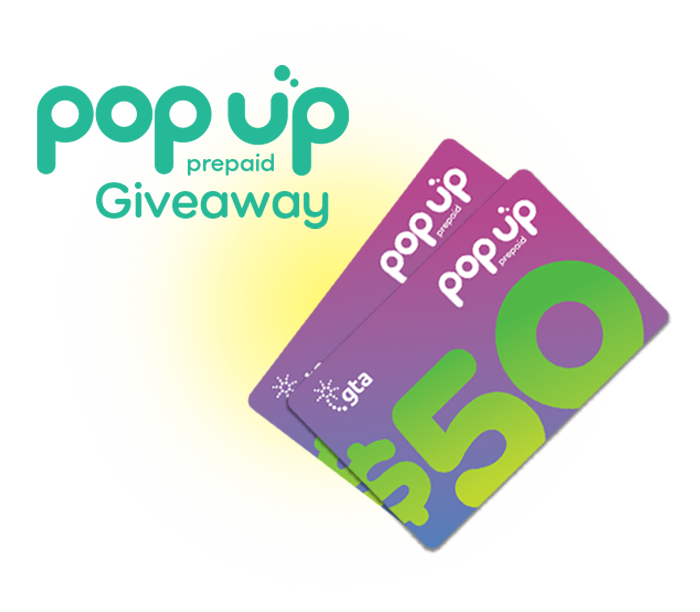 Weekly $100 Prepaid Load Prizes:
Every week 5 winners will be chosen/ drawn to receive $100 of GTA Prepaid Load!
1st drawing: August 28th, 2023
2nd drawing: September 5th, 2023
3rd drawing: September 11th, 2023
4th drawing: September 18th, 2023
5th drawing: September 25th, 2023
GRAND PRIZE
The sleek, stylish, and powerful Samsung Galaxy Z Flip5 512GB in Graphite with a folding display that's sure to turn heads! Just think of all the attention you'll get with this cutting-edge smartphone.
Grand Prize drawing: October 2nd, 2023
MORE ABOUT SAMSUNG GALAXY Z FLIP5
Raffle Entries

WHO MAY ENTER

The GTA Prepaid Giveaway is open to all legal Guam residents aged 18 years and older. Employees of GTA and their respective agencies and their immediate families are not eligible to participate or win in this promotion. (Immediate family shall be defined as spouse and children living in the same household. Additionally, all others including mother, father, siblings, and in-laws living under the same roof as the employees shall be deemed ineligible). Any submissions made under false pretenses will automatically be disqualified.

DRAWING DATE: Winners will be chosen through a random electronic drawing beginning of every week starting August 28th to October 2nd, 2023.
HOW TO PARTICIPATE AND EARN AUTOMATIC RAFFLE ENTRIES
From August 21st – October 1st, 2023 purchase and activate a GTA prepaid unlimited plan during the promotional period to automatically receive electronic raffle entries. The higher the plan's value, the more entries you'll earn.


Acquire GTA Prepaid SIM card (active or new) that can be purchased at GTA Retail stores, Mobil Gas Stations, Shell Foody's Stations, Pay-Less Supermarkets, Xchanged Inc., and select Mom & Pop stores around Guam.


Access any of GTA Prepaid's Platforms to sign up for any of the Prepaid Unlimited Plans via mobile or desktop.


Prizes - There will be (5) five winners each week. Each weekly winner will receive one (1) $100 Prepaid Load. There will be (1) one grand prize winner. The grand prize winner will receive one (1) Samsung Galaxy Z Flip5 512GB.


Winner Selection - Qualified subscribers will be extracted following the raffle earning period, schedule, and draw dates below for the Weekly and Grand Draws. GTA Marketing representatives will be present to draw the winners as scheduled. Winners will be chosen through a random electronic drawing beginning of every week starting August 28th to October 2nd, 2023.


Prize Redemption - Weekly prize winners must claim their prizes within [2] consecutive days from the date of notification. Grand prize winners must claim their prize within [2] consecutive days from the grand prize draw date.
NO PURCHASE NECESSARY ENTRY

Customers are eligible to receive one (1) complimentary entry during the promotional period (August 21st, 2023 to October 1st, 2023) by sending a self-addressed stamped envelope to the GTA Marketing Department, 624 North Marine Corps Drive, Tamuning GU 96913. Limit one entry per request; one request per outer mailing envelope.
TERMS & CONDITIONS

Drawing for the winners will be determined solely by GTA Marketing and will be announced on its website and official Facebook and Instagram pages. GTA management reserves the right, in its sole discretion to reschedule giveaway, change the drawing time, location, and format, modify the entry procedures, cancel the giveaway, or cancel the awarding of prizes should unauthorize human intervention, technical failures or any other factor beyond reasonable control corrupt the administration, security, fairness, integrity or proper operation of the promotion. In such event, GTA reserves the right to award the prizes at random from among the eligible entries received up to the time of impairment.

GTA also reserves the right in its sole discretion to disqualify any individual it finds to be tampering with the entry process or the operation of the promotion or to be acting in violation of these Rules or in an unsportsmanlike or disruptive manner. Failure to enforce any term of these Rules shall not constitute a waiver of that provision.

There shall be one individual winner per prize. GTA management will verify proof of residency and age before awarding the prizes. Only the number of prizes stated in the Official Rules and Regulations will be awarded. Winners assume full responsibility for the prize as is, which is non-transferable, non-returnable, or non-exchangeable. Any additional fees to include federal and/or local taxes are the sole responsibility of the winner. Winner must be reachable to win – no proxies allowed. Failure to claim a prize by the time or in the manner specified for the promotion will make any claim invalid.

RELEASES

By participating in this promotion, participant agrees to GTA's use of their personal information and likeness for both online and offline marketing purposes. Winner must agree to photo shoots, video shoots, and interview as determined by the selection committee. Winning constitutes permission to use Winners' names, images, village, likeness, prize won and photograph (all at GTA's discretion) for future advertising and/or publicity in any and all media without additional compensation, notification or permission.
For Full Terms and Conditions and FAQ click here.
How can we help?
Popular Links
Get In Touch
Contact us
to get started.
Whether you're a current customer or thinking of signing up, we would love to hear from you!